Istanbul Classic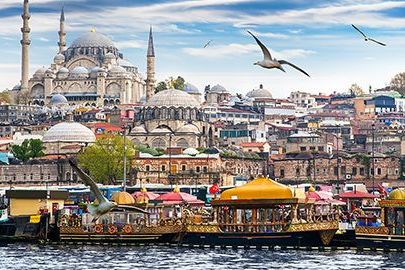 Important Information
How long does the tour take?
A complete circuit on the Red Route (City Tour) takes approximately 2 hours. Tour length may extend due to traffic density.
Please allow for more time if you plan to hop on and off at any of our stops.
How do I redeem my ticket?
Tours start at Stop 1/20: Sultanahmet Square (between the Blue Mosque and Hagia Sophia, next to the main road). You can hop on the bus from any stop, but please note that e-vouchers must be redeemed with a customer service representative at Stop 1/20.
What is the child ticket policy?
A child ticket is available for children between the ages of 5 - 12. Children under 5 may travel free of charge. All children must be accompanied by an adult.
How frequent are the buses?
Istanbul City: Red Tour
First Departure: Stop 1: 11:00
Last Departure: Stop 1: 17:00
Frequency: 60 minutes
Do I need to specify a date of travel?
Yes –we'll ask you to select the date you'd like to hop on the bus. If you're touring with us for more than one day, your ticket must be used across consecutive days, and the date you select at time of booking should be the first day of your tour. Some tours also require you to select a time of travel, to guarantee your seat. If your ticket includes extras, you may also need to book additional dates & times for all elements of your ticket after your purchase is complete. See your booking confirmation email for instructions.
Are the buses wheelchair accessible?
Yes, all of our buses are wheelchair accessible. Please contact us for further information.
Refunds
To request a refund please follow the below instructions:
Please email your request to: bookingsupport@bigbustours.com
Please include the following details:
Customer name
Customer email address
Date of sale
Order reference number
The reason for requesting refund - please provide as much information as possible.
MORE INFORMATION
Enjoy a 1-day hop-on, hop-off sightseeing bus tour of Istanbul and discover the best sights of the city with our Classic Ticket
RELATED PRODUCTS
2 Day Hop-on, Hop-off
Pre-recorded Commentary
See all the top landmarks
3 Day Hop-on, Hop-off
Pre-recorded Commentary
See all the top landmarks