SELECT DEPARTURES BETWEEN 4 - 30 DECEMBER
London Christmas Walking Tour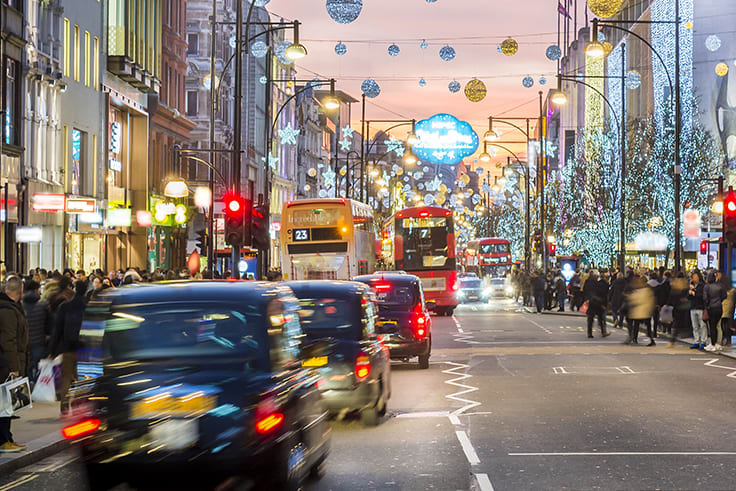 TOUR DESCRIPTION
Discover the magic of Christmas in London on a 2-hour fully-guided walking tour.
Guided Walking tour of London
See the Christmas Lights and markets in the west end
Book your walking tour date & time
Hop-on, Hop-off
River Cruise
Important Information
Where and when do tours start?
The tour will meet at Big Bus Stop #1 (Green Park Underground - next to the Ritz by entry to Green Park Tube Station) at 12:45 ready to leave promptly at 13:00.
The tour takes between 1.5 and 2 hours. The tour finishes at Big Bus Stop #9 (Trafalgar Square - Pall Mall E (Between Suffolk and Whitcomb Streets).
Tour Dates
This is a limited edition tour. Tours will be running 4th and 5th, 11th and 12th, plus everyday between the 18th and 30th December (excluding 24th & 25th).
What is the child ticketing policy?
A child ticket is available for children between the ages of 5 - 15. Children under 5 may travel free of charge. All children must be accompanied by an adult.
Refunds
To request a refund please follow the below instructions:
Please email your request to: refundslondon@bigbustours.com
Please include the following details:
Customer name
Customer email address
Date of sale
Order reference number
The reason for requesting refund - please provide as much information as possible.
Ticket Redemption
To redeem your ticket, go straight to the departure point 15 minutes prior to your tour time & show your voucher to the guide.
MORE INFORMATION
Get into the spirit of Christmas with a 1.5-2 hour Christmas Walking Tour of London with our expert live guide. See thousands of glittering Christmas lights as you walk through Oxford Street, Regent Street, Piccadilly, Houses of Parliament, London Eye, Westminster Abbey and see the dazzling Trafalgar Square Christmas Tree.