Los Angeles Premium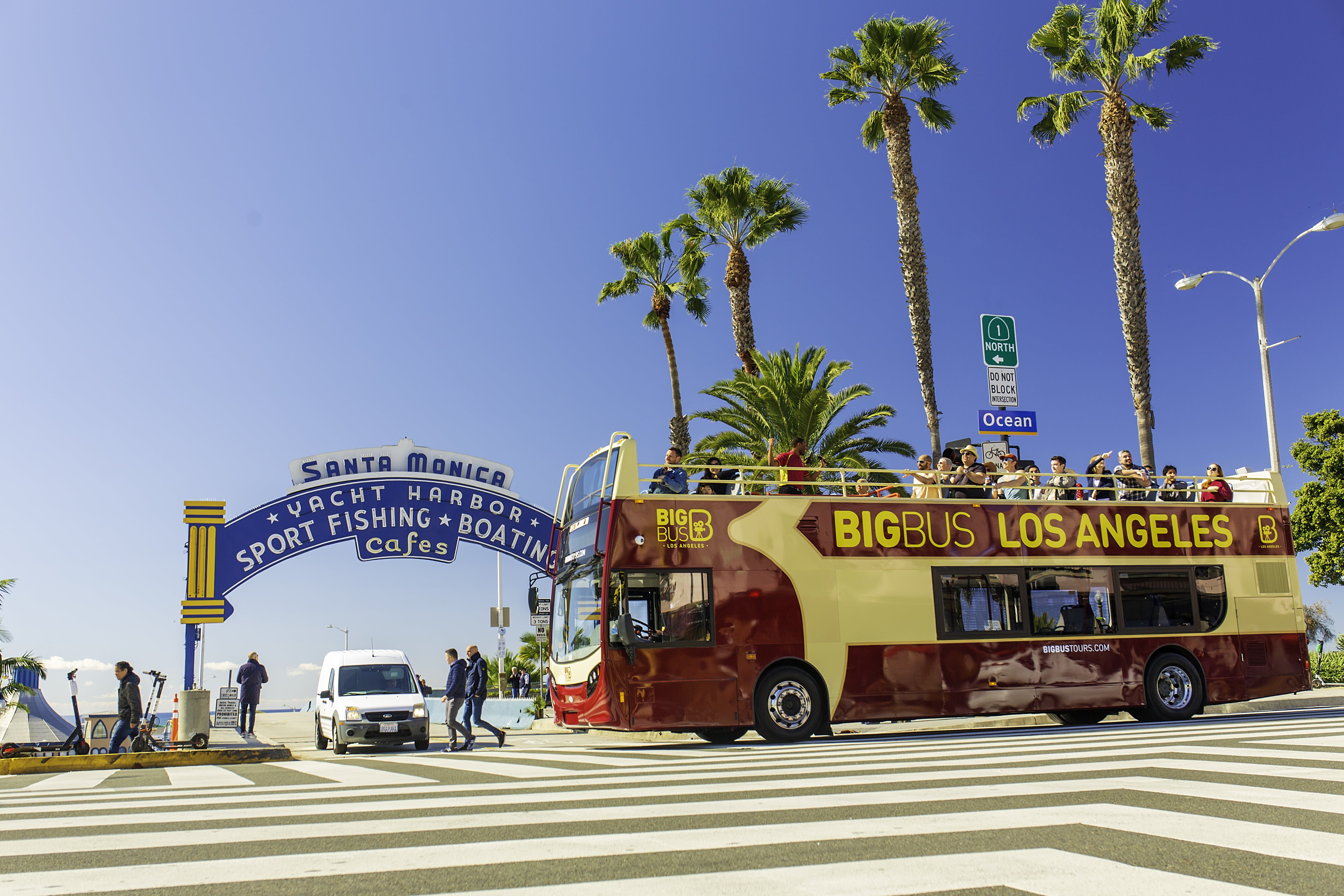 Important Information
Do I need to specify a date of travel?
Yes –we'll ask you to select the date you'd like to hop on the bus. If you're touring with us for more than one day, your ticket must be used across consecutive days, and the date you select at time of booking should be the first day of your tour. Some tours also require you to select a time of travel, to guarantee your seat. If your ticket includes extras, you may also need to book additional dates & times for all elements of your ticket after your purchase is complete. See your booking confirmation email for instructions.
What is the child ticketing policy?
A child ticket is available for children aged between 3 and 12 years. All children must be accompanied by an adult. Children aged 2 years and under may travel free of charge. Children aged 15 years and under must be accompanied by an adult. Strollers and pushchairs must be folded and stowed on the lower deck.
On which days does the tour operate?
The Big Bus tour of Los Angeles operates daily, excluding Thanksgiving Day (24 November), Christmas Day (25 December) & Oscar's Day (12 March '23). On rare occasions, our service may be affected by events outside of our control. Do check our service alerts for any unexpected disruptions.
Accessibility
Yes, we operate wheelchair accessible vehicles with lifts that can accommodate a weight up to 650 pounds. Please be advised that our entire fleet in Los Angeles is not wheelchair accessible. If you or your travelling partner(s) requires an ADA accessible vehicle, please contact us 48 hours prior to your planned tour commencement. We can then arrange for a suitable vehicle to be available at the time and location required. If you require a different accommodation, please also contact us 48 hours prior to your planned tour commencement so we can make arrangements for an accommodation. Please note that messages left on the office general voicemail do not constitute confirmed arrangements. Please also note that passengers with mobility impairments may not be able to access the upper deck on our buses. We cannot guarantee the accessibility of the various attractions along the tour.
Refunds
To request a refund please follow the below instructions:
Please email your request to: refundsusa@bigbustours.com
Please include the following details:
Customer name
Customer email address
Date of sale
Order reference number
The reason for requesting refund - please provide as much information as possible.
MORE INFORMATION
Discover Los Angeles with our 2-day Premium Ticket. Explore the city across 2 different routes, enjoying views of iconic landmarks like the Hollywood Sign, Walk of Fame and Rodeo Drive.
This ticket also includes admission to a 30-minute TCL Chinese Theatre Walking Tour. Discover the history of the TCL cinema palace with stories and fun facts from the theatre's beginnings through to today, ranging from Hollywood premieres to celebrity hand-print ceremonies in the Forecourt of the Stars. Simply present your ticket voucher at the tour kiosk (located at the entrance of the theatre at 6925 Hollywood Blvd) in exchange for a ticket for the next available tour. Tours begin at 9:30 daily.
RELATED PRODUCTS
2 Day Hop-on, Hop-off
Hollywood Loop
Beach Shuttle
See all the L.A. landmarks
TCL Chinese Theatre VIP Tour
Big Bus Celebrity Home & Lifestyle Tour
Adult
US$99.99
Child
US$79.99