Paris Museum Pass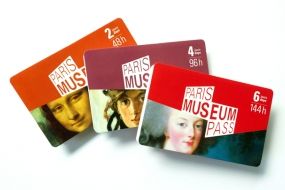 Important Information
How do I redeem my ticket?
You must redeem your ticket voucher for the Paris Museum Pass at the Big Bus Tours Information Centre (11 Avenue de l'Opéra, 75001 Paris, Métro Ligne 7 Pyramides) prior to visiting any attraction. Before using your pass, you will need to write the date and your name on it. Passes must be used across consecutive days. Please note that the "queue-cutter" aspect of the pass cannot always be guaranteed when an attraction requires you to collect a free ticket prior to entry, when there are security checks in place, or when regulated access is enforced for security or crowd-control purposes.
Big Bus Tours Information Centre: Open 7 days a week from 9.30 m to 7pm, included bank holidays. Tel: +33 (0)1 42 61 24 64
What is your Child ticket policy?
Visitors under 17, and EU residents under 26, can enter most attractions for free, so we do not offer child variants of the Paris Museum Pass.
Refunds
To request a refund please follow the below instructions:
Please email your request to: infoparis@bigbustours.com
Please include the following details:
Customer name
Customer email address
Date of sale
Scan of your redeemed ticket (pink ticket) where applicable.
Order reference number
The reason for requesting refund - please provide as much information as possible.
MORE INFORMATION
Take a grand tour of the city's cultural treasures with your Paris Museum Pass. This convenient ticket allows you free, direct entry to more than 50 different Paris attractions, including the Louvre, the Palace of Versailles and the Arc de. You can enter each attraction as many times as you like over 2 consecutive days. Simply head to the Big Bus Tours Information Centre near the Louvre to collect your Paris Museum Pass and embark on your quest of cultural enrichment! There are over 30 museums, galleries, monuments and more to discover within Paris, and 20 more, including grand châteaux, located close to the city.
Each pass allow one visit per venue for 48 hours starting from 1st museum/monument visited.