Rome Deluxe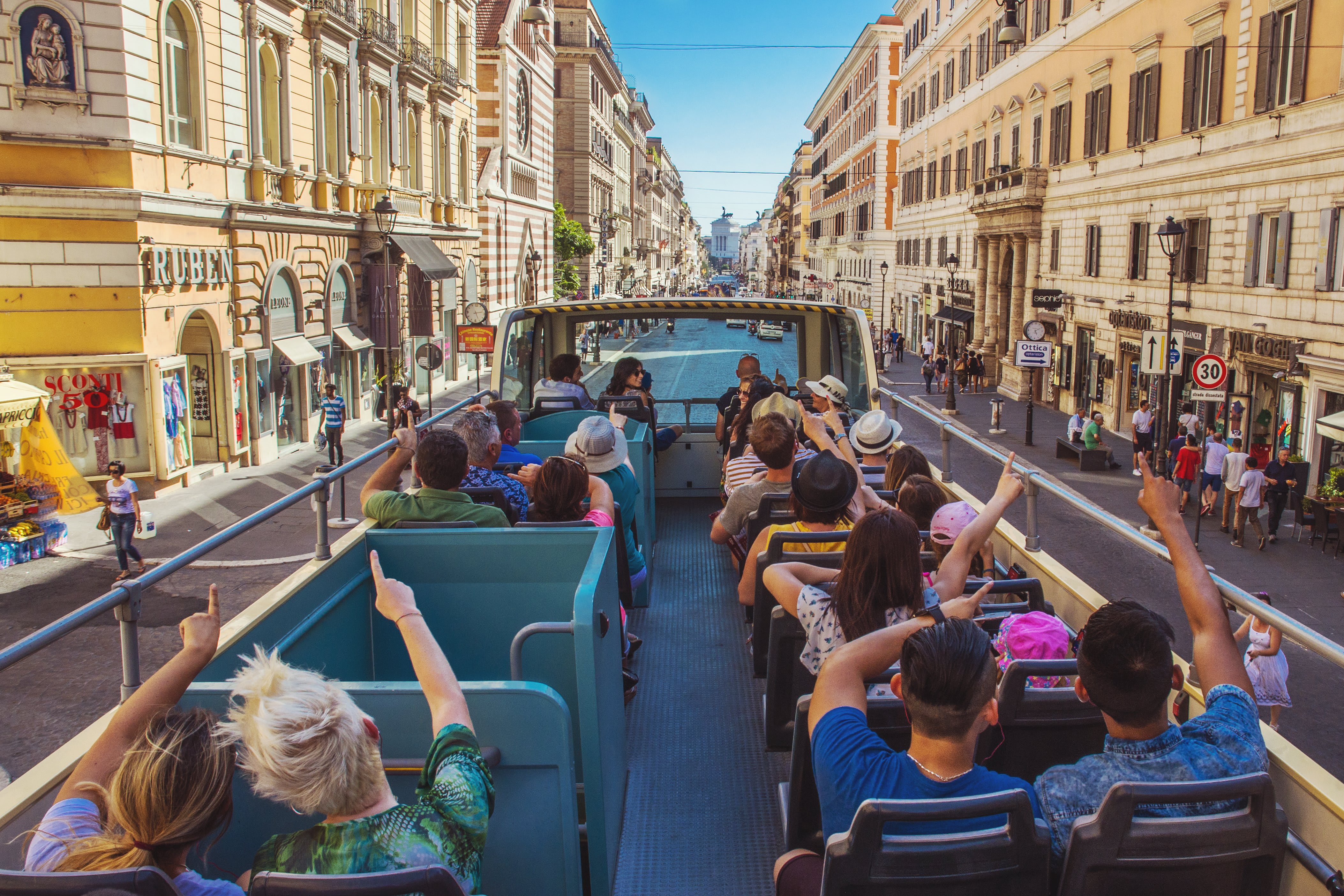 Important Information
Is the commentary available in my language?
The Big Bus Rome sightseeing tour offers a recorded commentary in your choice of either English, Italian Spanish, French, German, Chinese Mandarin, Russian, Arabic and Portuguese. The commentary is available through complimentary earphones that you will receive when you board the bus.
How do I redeem my ticket?
Simply show your ticket to a Big Bus Tours staff member at one of our stops or aboard the bus. They'll issue you a receipt that you'll be able to use to hop on the bus throughout the validity of your ticket.
Which days do the tours operate?
Big Bus Tours Rome operates daily. Occasionally severe weather and special event days could affect service.
Do I need to specify a date of travel?
Yes –we'll ask you to select the date you'd like to hop on the bus. If you're touring with us for more than one day, your ticket must be used across consecutive days, and the date you select at time of booking should be the first day of your tour. Some tours also require you to select a time of travel, to guarantee your seat. If your ticket includes extras, you may also need to book additional dates & times for all elements of your ticket after your purchase is complete. See your booking confirmation email for instructions.
What is the child ticket policy?
A child ticket is available for children between the ages of 5 - 15. Children under 5 may travel free of charge. All children must be accompanied by an adult.
Are the buses wheelchair accessible?
Yes, most of our buses are wheelchair accessible.
I bought the ticket but it's for someone else. It has my name on it, is this ok?
You're all set! Simply show your voucher(s) to any member of on-street staff who will scan the QR code and hand over your yellow Big Bus Tour tickets. Don't lose them, they're like gold (cash) and cannot be replaced.
Refunds
To request a refund please follow the below instructions:
Please email your request to: inforome@bigbustours.com
Please include the following details:
Customer name
Customer email address
Date of sale
Order reference number
The reason for requesting refund - please provide as much information as possible.
MORE INFORMATION
Our 3-day Deluxe Ticket gives you the opportunity to discover the best of Rome on board our open-top double decker sightseeing buses. This ticket also includes free Digital Walking Tours, a unique audio and navigation functionality enables you to explore the city on your own, discovering hundreds of urban sights along many suggested itineraries.
Mask Rules FFP2 masks are compulsory on board the bus. Please note that from Sunday 1st May, it is no longer mandatory to present a Covid Green Pass, but all customers must wear a FFP2 type mask on board the bus, in line with Italian law. While this is not our rule, it is imposed by the Italian government and it must be respected, as Italian Police can board the bus and issue fines to passengers (and businesses) who disregard this rule.