Sydney Captain Cook - Whale Watching Cruise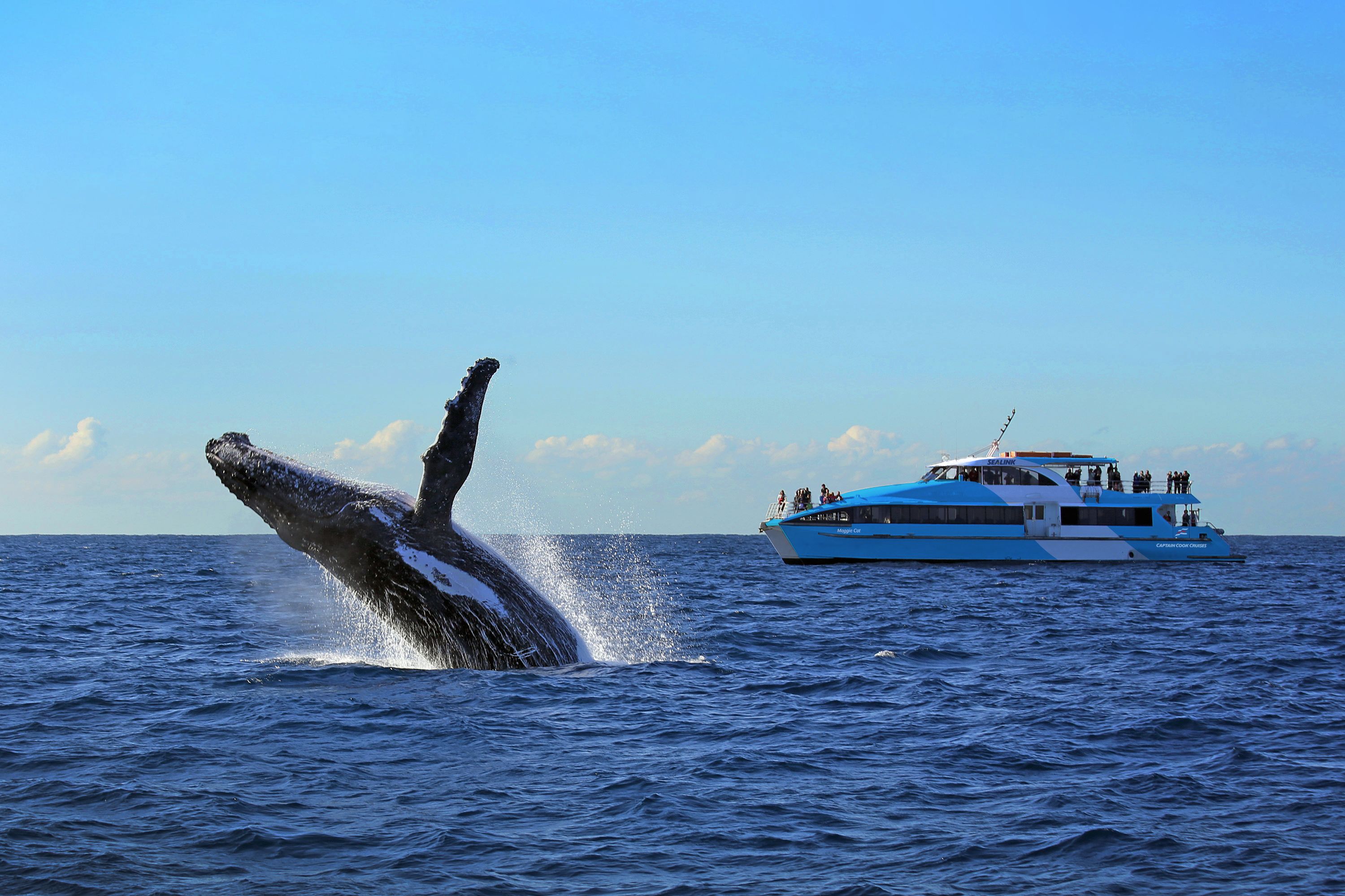 TOUR DESCRIPTION
Approx 3hr Whale Watching Cruise with commentary.
Important Information
How do I book my cruise?
To book, please call Captain Cook Office +61 2 9206 1111 (9am-5pm) or if after hours, please email: [email protected] and provide the Ticket Booking Reference.
On the day of your cruise, it is possible to re-confirm your booking by calling +61-2-8062 3623 from 7.15am (not mandatory).
Cruise Passenger numbers & Departure Times
The cruises are safe, comfortable and spacious. The vessel is currently limited to 75 guests per cruise (normally 200), in line with the ease of government restrictions on 1st July*.
*as at 01 July 2020 and subject to change.
03-19 Jul and 26 Sep - 11 Oct 2020
- 10am daily
- 1.15pm Sat & Sun
20 Jul - 25 Sep and 12 - 28 Oct 2020
- 10am Fri, Sat & Sun
- 1.15pm Sat & Sun
Whale Guarantee
Over 95% whale sighting success. The Whale Guarantee applies when a whale is not sighted during the cruise. In this case, passengers can cruise again in the same season for free on a standby basis confirmed 24-hours prior, subject to availability.
Available for purchase on board: Purchase bar (licensed vessels only) & snacks
What to Bring:
This is an open water cruise and you will experience sea motion. We recommend you eat lightly before and during the cruise. Travel sickness tablets are generally most effective if taken prior to the cruise. Please dress according to the weather - it will often feel colder at sea. Smoking is not permitted on board.
Important information
As this is an open water cruise, names of all passengers and emergency contact details are a legal requirement. Cruises are subject to cancellation due to weather and other operational requirements.
Please ring +61-2-8062 3623 from 7.15am on the day of your cruise for the latest information.
If your cruise is cancelled by the operator, passengers may (1) re-book another Captain Cook Whale Watching Cruise in the same season or (2) seek a refund by emailing [email protected]
If you fail to show for your cruise, 100% cancellation fees apply.
All tickets require proof of purchase in order to collect tickets from the attraction admissions staff.
Big Bus Partners are unable to perform a refund once the voucher has been redeemed at the attraction site, please keep this voucher safe as replacements will not be issued.
MORE INFORMATION
Whale watching at its very best! Cruise aboard a great vessel with full commentary and whale guarantee - see a whale or cruise again for free.
Sydney's coastline is a playground for Humpbacks between May and October. Their antics include breaches, tail slapping and even a close-up wink when they are feeling extra curious.
You may also see Southern Rights, Orcas and Minke whales, playful dolphins, seals, fairy penguins, albatross and more.