Sydney Tower Skywalk & Observation Deck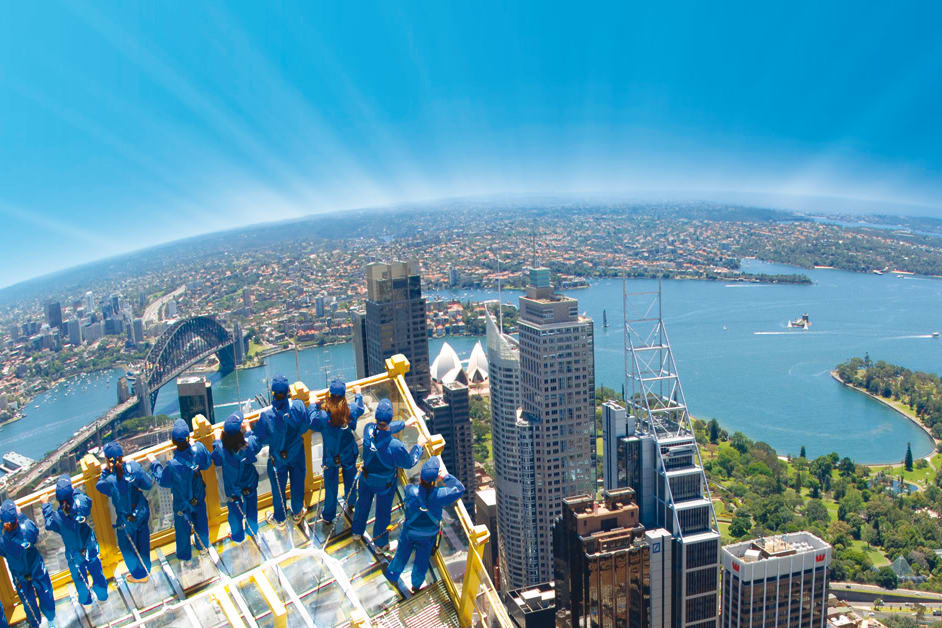 Important Information
How do I redeem my ticket?
Reservations are essential. Please call Skywalk on 1800 614 069 to book in your voucher. Please quote reference number of this voucher when booking.
Important information
Guests must arrive 45 minutes before their SKYWALK start time
Guests can't take any personal items on the SKYWALK (including phones, cameras, GoPros, etc), lockers are available for guests to use.
Professional photos are available for purchase at the completion of the experience.
All participants will be required to sign a health disclaimer, some pre-existing medical conditions may prevent you from going on the SKYWALK
All participants must pass an alcohol breath test
Photo ID is required upon Skywalk check in and must match the name provided on declaration form
Minimum age is 10 years
Minimum height is 90 centimetres (2.95-feet)
One adult per child is required if booking a child 10 years of age, one adult per three children aged 11-17 years
There is a maximum of 15 people per walk
Clothing: Guests need to wear pants or shorts, no dresses or skirts. Flat and enclosed shoesare also required.
Departure
Departure time: from 10am - 8pm every hour. Last tour at 7pm
All walks will be maximum 4 guests.
Departure Point: Sydney Tower Eye Observation Deck, Level 5, Westfield, 100 Market Street, Sydney
Departure Time: Select a departure time from 10am-6pm. Valid from the time you exchange your voucher, for the duration selected. Please arrive 45mins prior to Skywalk start time.
Terms & Conditions
Once your voucher has been redeemed at attraction site, Big Bus Sydney are unable to perform a refund. Your voucher is valid for 30 days from date of issue.
Guests admitted to the Attraction are subject to the Attraction regulations which are displayed at the main entrance, a copy of which is available on request.
All persons entering the Attraction must have a valid entrance ticket which must be retained during your visit. As the tickets are non-transferable, accordingly they may not be sold or passed to any third party.
The visitor attraction known as Sydney Tower Eye and situated at Level 5, Westfield, 100 Market Street, Sydney ("the Attraction") is owned by Merlin Entertainments Sarl (Merlin).
Refund Policy: Admission tickets are non-transferable, non-exchangeable, non-refundable and void if altered. They are not valid for special events that require a separate admission charge.
All ticket holders to the Attraction are subject to the following Terms and Conditions and by acquiring one or more tickets to The Attraction ("Ticket" or "Tickets") you confirm to Merlin that you accept these terms and conditions of use (https://www.sydneytowereye.com.au/policy-statements/terms-and-conditions/)
Big Bus Partners are unable to perform a refund once the voucher has been redeemed at the attraction site, please keep this voucher safe as replacements will not be issued.
MORE INFORMATION
SKYWALK at the Sydney Tower Eye will have you feeling on top of the World!
Guests will be walking on air at the highest outdoor viewpoint (268m) in this city, with the CBD directly beneath their feet. Just look down through the glass floor viewing platform for a bird's-eye perspective of the bustling city below. During the 90 minute experience, they will be amazed at the exhilarating view as they spend 45 minutes walking around the outside of the tower, while our friendly guides point out iconic landmarks and share the best of Sydney's stories!
Accompanied by an expert guide and securely attached to the safety lines, proceed onto a glass-floored viewing platform that circles the sky scraping Sydney Tower Eye. This urban adventure gives guests unparalleled views of Sydney and its surroundings, along with a daredevil attraction.
Merlin Attractions: It is now mandatory to wear a Face Mask at all our Sydney's Merlin Entertainment attractions. Merlin are unable to allow entry to any guests who are not wearing Face Masks (unless medical condition). For those Guests who fail to wear a mask there will be Masks for Sale at the front counter.