Dublin Express Single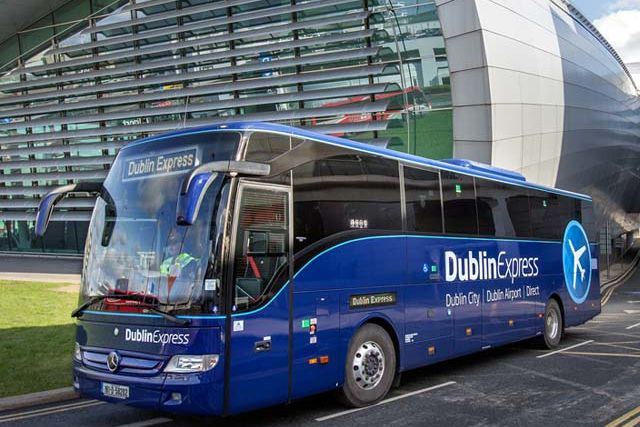 TOUR DESCRIPTION
Airport express single ticket
One Way Airport to City or City to Airport Transfer
Free Wi-Fi onboard
Frequent services
Important Information
Opening Hours
For travel to Dublin City Centre our first coach leaves Dublin Airport Terminal 1 at 04:05 and our last coach leaves Dublin Airport Terminal 2 at 23:05.
For travel to Dublin Airport our first coach leaves Georges Quay at 04:28 and our last coach leaves Georges Quay at 23:28.
Staff will be available at our Dublin Airport stops from 05:00 to 21:00 at Terminal 2 and 07:00 to 23:00 at Terminal 1.
Where do you stop?
Georges Quay
Aston Quay
Wellington Quay
Usher Quay
Merchant Quay
Heuston Station
Arran Quay
Ormond Quay
Eden Quay
Custom House Quay
Dublin Airport T1 (DUB)
Dublin Airport T2 (DUB)
What is the luggage allowance?
You can take two medium-sized suitcases or one large suitcase (each weighing no more than 20kg) on your coach, plus a small piece of hand luggage. Please note: Medium sized items are defined as 70cm x 30cm x 45cm, whilst large items may have a max dimension of 75cm x 50cm x 32cm. Your hand luggage can be no larger than 45cm x 35cm x 20cm
How long does the journey take?
Our fastest journey between Dublin Airport and Dublin City takes only 17 minutes. See our Dublin Express Timetable for all services
Refunds
To request a refund, get in touch by downloading the Big Bus Tours App or using the enquiry form at bigbustours.com/contactDBL
MORE INFORMATION
Travel from Dublin City to Dublin Airport with Dublin Express. Dublin Express is the hassle-free way to travel to Dublin airport, with services every 30 minutes running regularly across the day. Get on-board the fastest coach transfer to Dublin Airport with multiple pick up points at key locations throughout the city. Finding the best place for your Dublin Airport transfer is simple. Choose from 10 stops, including Aston Quay, Eden Quay and Wellington Quay. Sit down, relax and enjoy the on-board Wi-Fi and generous baggage allowance of two 20kg bags in addition to one soft piece of on-board luggage. Taking the coach to the airport has never been simpler.