Las Vegas 5 Star Grand Canyon Above & Below Extended Helicopter Air Only Tour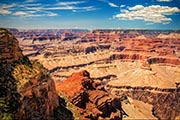 Important Information
Passenger re-confirmation
Passengers must be reconfirmed 48 hrs. in advance of the applicable tour day/date/time. Failure to re-confirm your applicable flight may result in you being off-loaded from your originally booked tour day/date/flight time. Please call the 5 Star reservations team on: 702-565-7827 to confirm your booking.
Confirmation details including the tour departure date and time will be emailed to you within 24 hrs. For all bookings within 24 hours of travel date please call in your reservation directly to the 5 Star Grand Canyon Helicopter Tours reservations center at 702-565-7827 (6am-10pm PST).
No show of the applicable tour day/date/time will result in 100% no show fee of the applicable retail price.
Flight Routes
For safety, flight routes and flight times may vary due to weather conditions. 5 STAR Grand Canyon Helicopter Tours, LLC, reserves the right to upgrade passengers onto another tour. Flight times are approximate and include loading and unloading.
Comfort & Safety
Passengers exceeding 250 lbs / 114kg. will be required to purchase an additional seat at 100% of the applicable retail price. Due to weight restrictions seat assignments cannot be guaranteed. Passengers exceeding stated body weights may-be off-loaded at the time of check-in.
Refunds:
Las Vegas & Grand Canyon Tours require 96 hours (4 Days) cancellation notice of the applicable tour day/date/time is required for day-time Grand Canyon Tours. Tours cancelled within 96 hours (4 Days) of the applicable tour day/date/time will result in 100% cancellation fee of the applicable retail price.
To request a refund please follow the below instructions:
Please email your request to: refundsusa@bigbustours.com
Please include the following details:
Customer name
Customer email address
Date of sale
Order reference number
The reason for requesting refund - please provide as much information as possible.
MORE INFORMATION
This is a spectacular aerial tour of the West Rim of the Grand Canyon. Your highly trained Pilot will provide informative commentary and narration as you experience stunning aerial views of the magnificent Hoover Dam, Bypass Bridge, and Black Canyon. Fly past the extinct and colourful volcano – Fortification Hill. Feel the awe and exhilaration previously only shared by great birds of flight as you explore above and below over 15 miles of the Grand Canyon itself. As you fly along the rim, you'll pass through millions of years of geological time, and the colourful canyon walls provide a remarkable record of the Palaeozoic Era, dating back from 250 to 550 million years and beyond. The Grand Canyon, its majestic size, brilliant palette of colours, and rugged beauty will remain stamped in your memory for a lifetime. Fly like a Golden Eagle on this helicopter tour as you experience amazing panoramic views!