Las Vegas Discover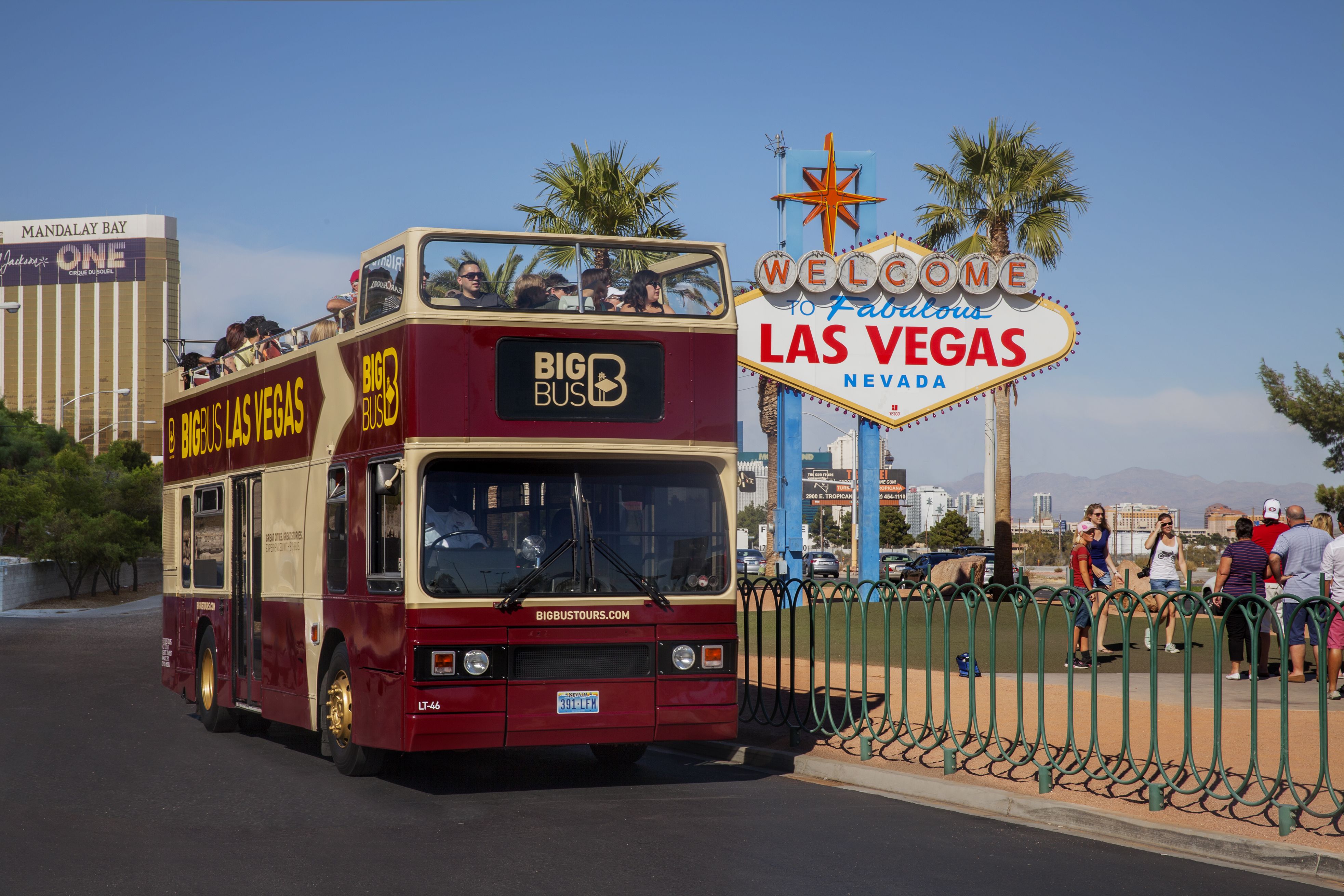 TOUR DESCRIPTION
Experience breathtaking views of the Las Vegas Strip & Downtown from atop of our London style double-decker bus! Entertaining and informative guides on every bus share stories that have made Las Vegas one of the most visited vacation destinations in the world. Explore the city at your own pace; hop-off at any one of our 18 stops to shop, eat, visit attractions and rejoin when you are ready.
 
INCLUDES:
One Day Hop-on Hop-off Big Bus Ticket"
1 Day Hop-on, Hop-off
Open-top double-decker bus
See all the top landmarks
Night Tour
High Roller Day Ticket
Important Information
Do I need to specify a date of travel?
Yes –we'll ask you to select the date you'd like to hop on the bus. If you're touring with us for more than one day, your ticket must be used across consecutive days, and the date you select at time of booking should be the first day of your tour. Some tours also require you to select a time of travel, to guarantee your seat. If your ticket includes extras, you may also need to book additional dates & times for all elements of your ticket after your purchase is complete. See your booking confirmation email for instructions.
What is the child ticketing policy?
Child tickets are available for passengers aged between 3 and 12 years. All children must be accompanied by an adult (16+). Children aged 2 years and under may travel free of charge. Strollers and pushchairs must be folded and stowed on the lower deck.
How long does the tour take?
The Day Tour (Red Route) takes approximately 1 hour, 45 minutes – 2 hours.
On which days does the tour operate?
The Big Bus tour of Las Vegas operates every day of the year with the exception of the Rock N Roll Marathon, Thanksgiving Day, Christmas Day, New Year's Eve. Do check our service alerts for any unexpected disruptions.
Are you able to drink alcohol on Big Bus Tours?
You are not allowed to carry or consume alcohol on any of our buses. Non-alcoholic drinks are only permitted if they have a locking cap.
Accessibility
Big Bus operates wheelchair accessible vehicles with lifts that can accommodate a weight up to 650 pounds. Please be advised that our entire fleet in Las Vegas is not wheelchair accessible. If you or your travelling partner(s) requires an ADA accessible vehicle, please contact us 48 hours prior to your planned tour commencement. We can then arrange for a suitable vehicle to be available at the time and location required. If you require a different accommodation, please also contact us 48 hours prior to your planned tour commencement so we can make arrangements for an accommodation. Please note that messages left on the office general voicemail do not constitute confirmed arrangements. Please also note that passengers with mobility impairments may not be able to access the upper deck on our buses. We cannot guarantee the accessibility of the various attractions along the tour.
Are motorized scooters allowed on the bus?
No, however, we allow collapsible wheelchairs and collapsible strollers.
What do I do if I lose my ticket?
Go to your nearest Big Bus Team member and they will reprint your ticket for a $15 fee.
Refunds
To request a refund, get in touch by downloading the Big Bus Tours App or using the enquiry form at bigbustours.com/contactLVN
MORE INFORMATION
Enjoy our hop-on, hop-off Las Vegas Bus Tours with the 1-day Classic Ticket! Discover all the top landmarks and attractions, and hear fascinating facts and stories from our recorded commentary, available in 8 different languages.
RELATED PRODUCTS
2 Day Hop-on, Hop-off
Open-top double-decker bus
See all the top landmarks
High Roller Day Ticket
Night Tour
Adult
US$75
US$67.50
Child
US$65
US$58.50
2 Day Hop-on Hop-off
Open-top double-decker bus
See all the top landmarks
2.5h - 3h Night Tour
High Roller Day Ticket