Las Vegas 5 Star Night Strip Helicopter Flight (excluding hotel pickup)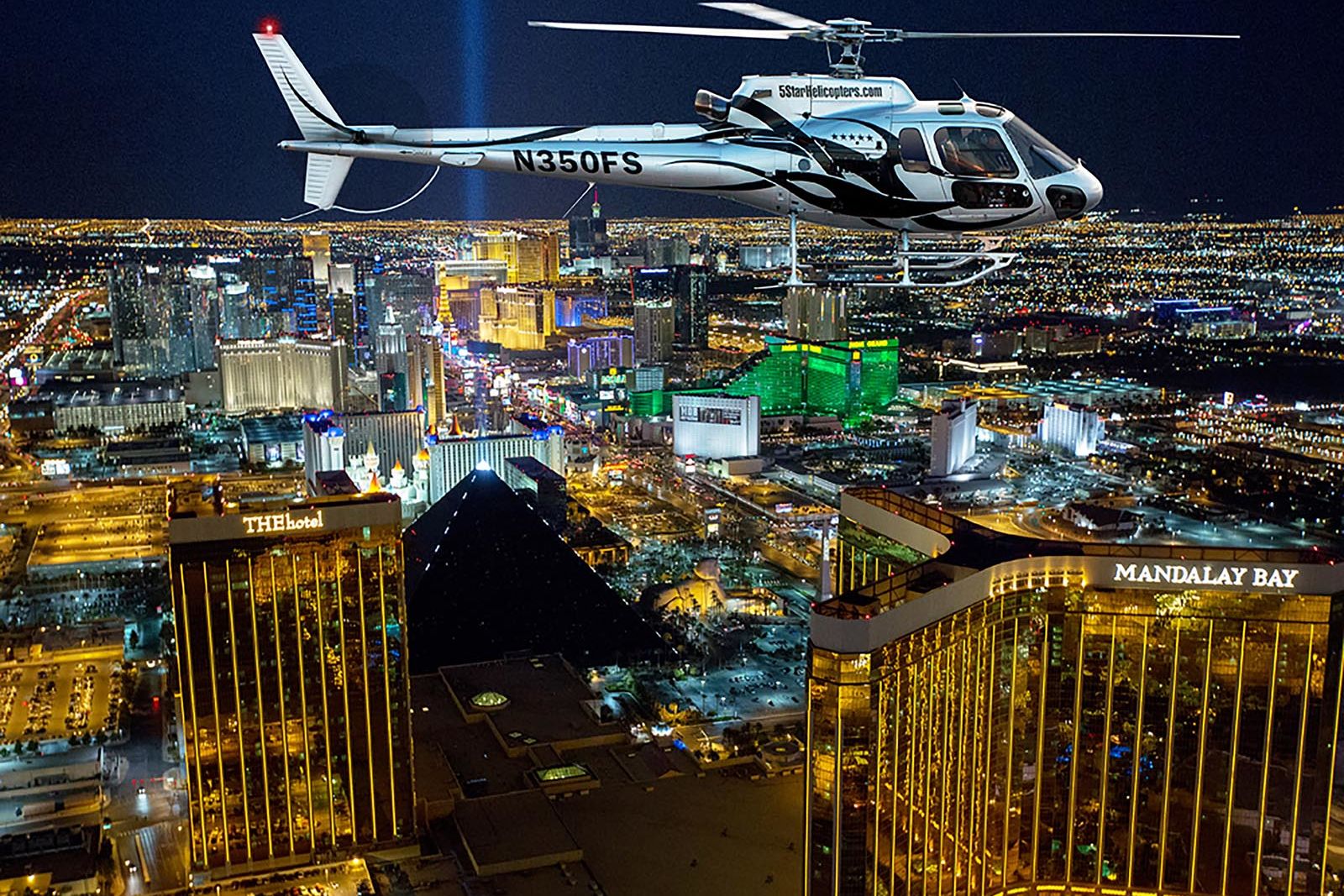 Important Information
Passenger re-confirmation
Passengers must be reconfirmed 48 hrs. in advance of the applicable tour day/date/time. Failure to re-confirm your applicable flight may result in you being off-loaded from your originally booked tour day/date/flight time. Please call the 5 Star reservations team on: 702-565-7827 to confirm your booking.
Confirmation details including the tour departure date and time will be emailed to you within 24 hrs. For all bookings within 24 hours of travel date please call in your reservation directly to the 5 Star Grand Canyon Helicopter Tours reservations center at 702.565-7827 (6am-10pm PST).
No show of the applicable tour day/date/time will result in 100% no show fee of the applicable retail price.
Flight Routes
For safety, flight routes and flight times may vary due to weather conditions. 5 STAR Grand Canyon Helicopter Tours, LLC, reserves the right to upgrade passengers onto another tour. Flight times are approximate and include loading and unloading.
Comfort & Safety
Passengers exceeding 250 lbs / 114kg. will be required to purchase an additional seat at 100% of the applicable retail price. Due to weight restrictions seat assignments cannot be guaranteed. Passengers exceeding stated body weights may-be off-loaded at the time of check-in.
Refunds:
Las Vegas & Grand Canyon Tours require 96 hours (4 Days) cancellation notice of the applicable tour day/date/time is required for day-time Grand Canyon Tours. Tours cancelled within 96 hours (4 Days) of the applicable tour day/date/time will result in 100% cancellation fee of the applicable retail price.
To request a refund please follow the below instructions:
Please email your request to: refundsusa@bigbustours.com
Please include the following details:
Customer name
Customer email address
Date of sale
Order reference number
The reason for requesting refund - please provide as much information as possible.
MORE INFORMATION
Experience the spectacular Las Vegas sparkling in all its glory with a 5 Star luxury air-conditioned helicopter. All seats are forward facing with unrestricted views of the dazzling city. Start the night as you celebrate your visit to Las Vegas with an unforgettable helicopter flight over the famous Las Vegas Strip's dazzling neon lights and its world-famous resorts. This is a self-drive tour to our terminal located just minutes from the Las Vegas Strip. Upon arrival enjoy a sparkling champagne toast. Following a brief check-in and safety briefing, you will board a luxury helicopter for the experience of a lifetime. This amazing helicopter journey of lights will take you to fly past the famous historic Downtown and the towering 1,149-foot-tall Stratosphere Tower, to the billion-dollar resorts of Bellagio, Caesars Palace, Mirage, Wynn, Venetian, City Center, MGM Grand, Mandalay Bay Resort, and the brilliant light of the Luxor space beam. Flight Duration: Approximately 12-15 minutes including loading and unloading. Flight distance: Approximately 20 miles / 32 km.