Las Vegas Adult Only Night Tour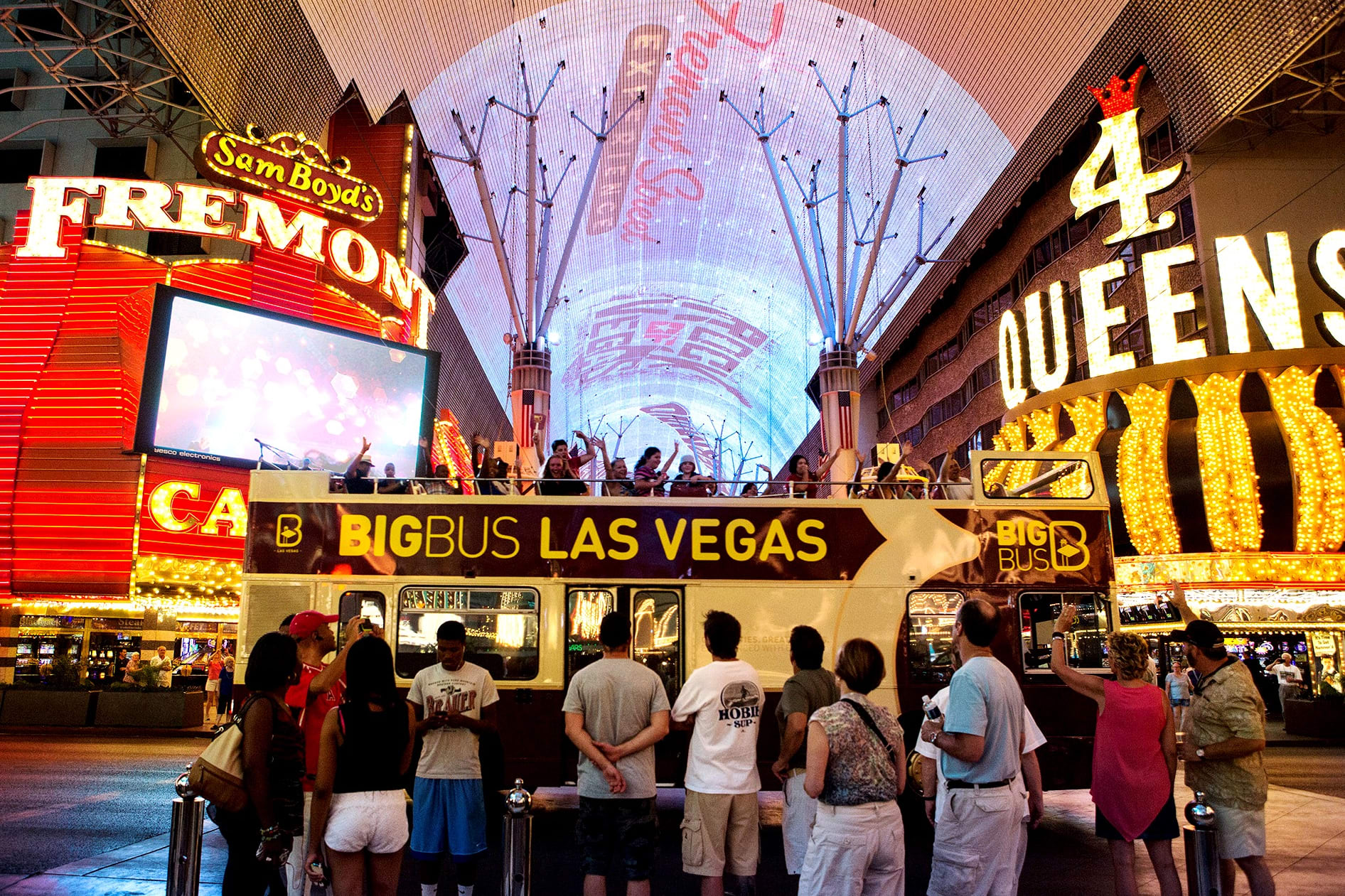 Important Information
How long does the tour take?
The Adult Only Night Tour takes approximately 2 hours.
Do I need to specify a date of travel?
Yes, you must pre-book your seat on the date you wish to travel.
On which days does the tour operate?
The Big Bus tour of Las Vegas operates every Thursday - Saturday with the exception 10th-11th November for 'Las Vegas Rock and Roll Marathon' and 31st December New Year's Eve. Do check our service alerts for any unexpected disruptions.
Are you able to drink alcohol on Big Bus Tours?
You are not allowed to carry or consume alcohol on any of our buses. However, water and other soft drinks are allowed on the bus.
Accessibility
Big Bus operates wheelchair accessible vehicles that can accommodate a weight up to 650 pounds. Please be advised that the upper deck on our entire fleet in Las Vegas is not wheelchair accessible. Passengers with mobility requirements may not be able to access the upper deck of our buses. Big Bus cannot guarantee the accessibility of the various attractions along the tour.
Are motorized scooters allowed on the bus?
No, however, we allow collapsible wheelchairs and collapsible strollers.
Refunds
To request a refund please follow the below instructions:
Please email your request to: [email protected]
Please include the following details:
Customer name
Customer email address
Date of sale
Order reference number
The reason for requesting refund - please provide as much information as possible
What do I do if I lose my ticket?
Go to your nearest CSR agent and they will reprint your ticket for a 15$ fee.
MORE INFORMATION
The Ages 21+ (Adult only) Night Tour of the Las Vegas Strip and Downtown captures the sights of Las Vegas at their glittering best. During our 2-hour panoramic city Night Tour with an adult only flare, Live Guides will take you on a spectacular journey into the Viva Las Vegas life. Also included in your tour is a welcome beverage from Circa Las Vegas and players club membership with additional adult beverage at the conclusion of the tour.
This is a limited capacity tour, so be sure to book your ticket in advance.