Las Vegas Adult Only Night Tour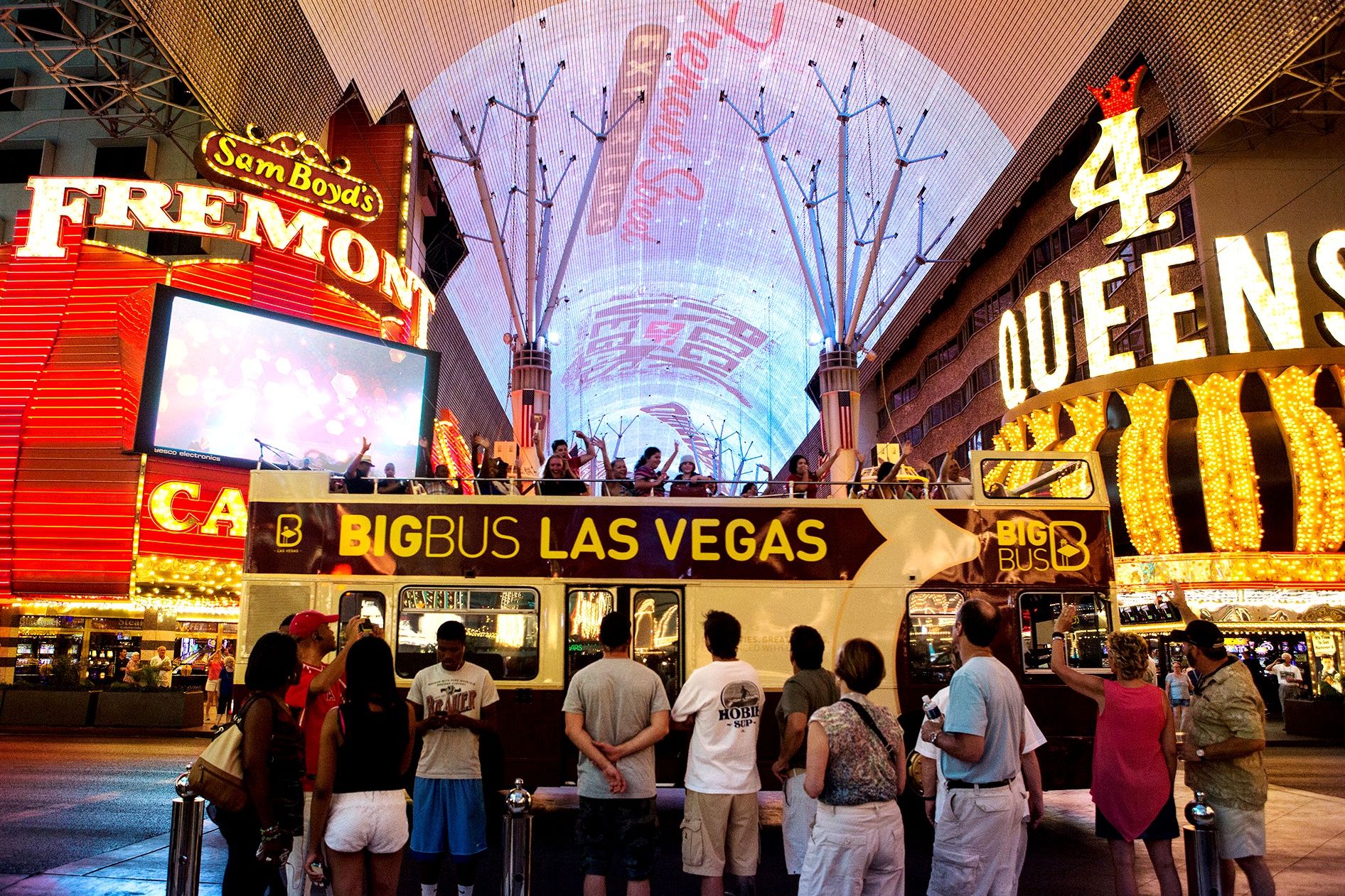 Important Information
How long does the tour take?
The Adult Only Night Tour takes approximately 2 hours.
On which days does the tour operate?
The Big Bus tour of Las Vegas operates every Thursday - Saturday with the exception of the Rock N Roll Marathon, Thanksgiving Day, 7th December, Christmas Day, New Year's Eve. Do check our service alerts for any unexpected disruptions. 10th-11th November for 'Las Vegas Rock and Roll Marathon' and 31st December New Year's Eve. Do check our service alerts for any unexpected disruptions.
Do I need to specify a date of travel?
Yes –we'll ask you to select the date you'd like to hop on the bus. If you're touring with us for more than one day, your ticket must be used across consecutive days, and the date you select at time of booking should be the first day of your tour. Some tours also require you to select a time of travel, to guarantee your seat. If your ticket includes extras, you may also need to book additional dates & times for all elements of your ticket after your purchase is complete. See your booking confirmation email for instructions.
Are you able to drink alcohol on Big Bus Tours?
You are not allowed to carry or consume alcohol on any of our buses. Non-alcoholic drinks are only permitted if they have a locking cap.
Accessibility
Big Bus operates wheelchair accessible vehicles with lifts that can accommodate a weight up to 650 pounds. Please be advised that our entire fleet in Las Vegas is not wheelchair accessible. If you or your travelling partner(s) requires an ADA accessible vehicle, please contact us 48 hours prior to your planned tour commencement. We can then arrange for a suitable vehicle to be available at the time and location required. If you require a different accommodation, please also contact us 48 hours prior to your planned tour commencement so we can make arrangements for an accommodation. Please note that messages left on the office general voicemail do not constitute confirmed arrangements. Please also note that passengers with mobility impairments may not be able to access the upper deck on our buses. We cannot guarantee the accessibility of the various attractions along the tour.
Are motorized scooters allowed on the bus?
No, however, we allow collapsible wheelchairs and collapsible strollers.
What do I do if I lose my ticket?
Go to your nearest Big Bus Team member and they will reprint your ticket for a 15$ fee.
Refunds
To request a refund please follow the below instructions:
Please email your request to: refundsusa@bigbustours.com
Please include the following details:
Customer name
Customer email address
Date of sale
Order reference number
The reason for requesting refund - please provide as much information as possible
MORE INFORMATION
Hop on our Adults-Only Night Tour to discover the secrets of Sin City after dark! Beginning with a welcome beverage from Circa Resort and Casino, you'll then board our open-top bus for a panoramic tour of Las Vegas - with a twist. Your guide will share risqué facts and stories about Las Vegas, and more than a few after-hours jokes! On return to the Circa, you'll enjoy another beverage at the bar, along with Club One Player's Membership at Circa's casino.
Please note: The Adults-Only Night Tour departs at 8:00pm, Thursday–Sunday only. On the day, present your ticket voucher/booking confirmation email to Big Bus Tours staff at the Circa Hotel Concierge desk no later than 7:15 pm. You'll receive your welcome drink voucher, and then make your way to the Big Bus at Circa's Garage Mahal (5-minute walk), arriving by 7:50 pm at the latest. The tour concludes back at Garage Mahal at approximately 10:15pm, where you can can enjoy a return beverage at Circa's bar, and continue the fun in the casino with your Club One Player's Membership.