Las Vegas Fly Over - Single Ride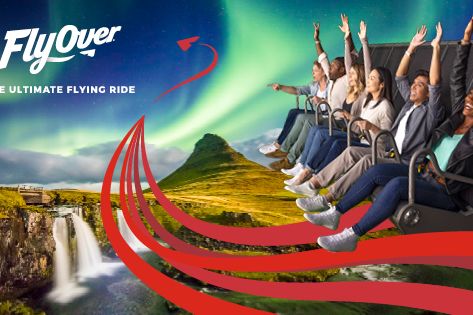 TOUR DESCRIPTION
Experience a Las Vegas ride like no other, located right next to Hard Rock Cafe on Las Vegas Boulevard.
Entrance to Single Feature
Important Information
Location & Opening Hours
3771 Las Vegas Blvd.
South Suite 150 Las Vegas, NV 89109
Located on the Las Vegas Strip right next to Hard Rock Cafe, across the street from Park MGM.
Open Daily: 9 AM to 9 PM
Important Information
The door-to-door FlyOver experience is about an hour which gives you an opportunity to relax in the lobby and grab a drink before ride boarding begins. Children must be at least 40″ tall in order to ride and all guests under 14 must be accompanied by an adult. FlyOver is accessible for wheelchair users, but only if they are able to transfer from their wheelchair to the ride seat by themselves or with the assistance of a companion. Although FlyOver is a gentle ride, it is not advised for people who are pregnant, or who have chronic back or neck pain, heart conditions, photosensitive epilepsy or conditions aggravated by visual stimuli such as flashing lights.
MORE INFORMATION
Experience FlyOver, Las Vegas' newest thrill ride. Buckle in for an incredible virtual journey through America's most beautiful landscapes and get a bird's eye view of Sin City. This immersive attraction replicates the sensation of flight, with state-of-the-art seating that's engineered to swoop, dip and turn. This is harmoniously synchronized with an enormous wraparound spherical screen, wind and mist effects, and authentic scents. FlyOver is located right next to the Hard Rock Cafe in the heart of The Strip.