Philadelphia 3-Day Tour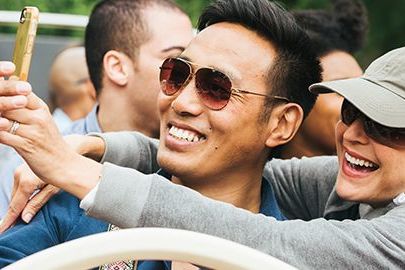 Important Information
Will I have a live guide?
All our tours feature fully trained guides who give an informative historical-based commentary.
How long does the tour last?
The full tour lasts approximately 90 minutes, although part of the fun is hopping on and off to see the sights and experience different guides! Buses are scheduled to arrive every 30-45 minutes.
Are your buses air-conditioned?
No, we have natural air-conditioning as our buses are open top!
Are accommodations available for persons with disabilities?
Are accommodations available for persons with disabilities? Yes, we operate wheelchair accessible vehicles with lifts that can accommodate a weight up to 650 pounds. Please be advised that our entire fleet in Philadelphia is not wheelchair accessible. If you or your travelling partner(s) requires an ADA accessible vehicle, please contact us 48 hours prior to your planned tour commencement. We can then arrange for a suitable vehicle to be available at the time and location required. If you require a different accommodation, please also contact us 48 hours prior to your planned tour commencement so we can make arrangements for an accommodation. Please note that messages left on the office general voicemail do not constitute confirmed arrangements. Please also note that passengers with mobility impairments may not be able to access the upper deck on our buses. We cannot guarantee the accessibility of the various attractions along the tour.
I bought the ticket but it's for someone else. It has my name on it, is this ok?
You're all set! Simply show your voucher(s) to any member of on-street staff who will scan the QR code and hand over your yellow Big Bus Tour tickets. Don't lose them, they're like gold (cash) and cannot be replaced.
Can I use a two or three-day pass on different days?
You'll need to enjoy your pass across consecutive days, so a two-day pass redeemed on Monday means your pass is valid Monday and Tuesday.
Refunds
To request a refund please follow the below instructions:
Please email your request to: bookingsupport@bigbustours.com
Please include the following details:
Customer name
Customer email address
Date of sale
Order reference number
The reason for requesting refund - please provide as much information as possible.
MORE INFORMATION
Hop on to discover the unique history and beauty of Philadelphia on our sightseeing tour. This ticket is valid for 3 consecutive days of hop-on, hop-off sightseeing.
Tickets are only valid within operating hours on the date of redemption.
RELATED PRODUCTS
2 Day Hop-on, Hop-off
Live Guides
1 Comprehensive route
See all the top landmarks
1 Day Hop-on, Hop-off
Live Guides
1 Comprehensive route
See all the top landmarks