San Francisco Red and White Bridge to Bridge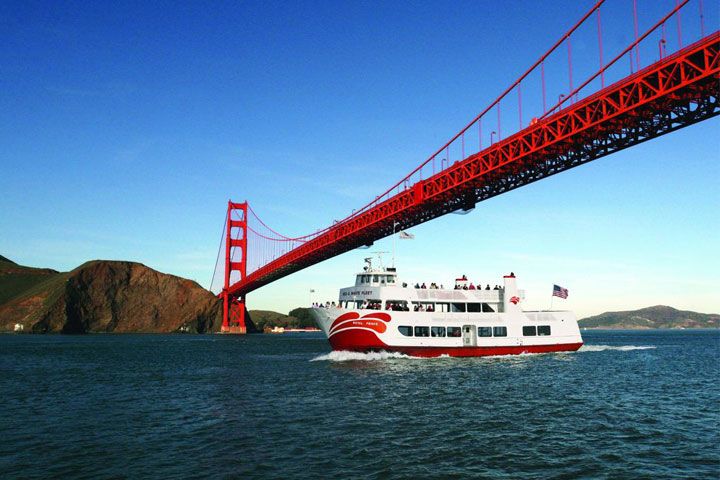 TOUR DESCRIPTION
Red and White 'Bridge 2 Bridge' Sightseeing Cruise (90 minutes)
Local taxes
Gratuities; recommended
Food/beverages; Full bar with drinks and snacks (at reasonable prices)
Important Information
Where do the cruises depart from?
The San Francisco cruises depart from Pier 43½, located in the heart of Fisherman's Wharf at the end of Taylor Street, at the intersections of Taylor Street and Embarcadero (Near Stop #1).
You can find the location on most GPS devices by entering "Red and White Fleet" as the destination.
Timings
Red and White Fleet's Bridge 2 Bridge Cruise departs 1 to 5 times daily, all year long.
Winter Schedule Daily Departure Times (4/11/2018 – 22/3/2019):
12:00pm
4:15pm*
*Thursday – Monday*
Redemption Information
Exchange your ticket voucher at the Red and White Fleet Kiosk for a boarding pass. Do not go directly to the boarding line without your boarding pass, as you will be re-directed to the kiosk. Your boarding pass is valid for one cruise, at the departure time of your choice. Your ticket voucher is valid for 3 months after purchase date.
Can one bring food aboard the cruises?
Yes, guests are welcomed to bring their own boxed luncheons. The vessels are equipped with cafes, offering hot & cold non-alcoholic and alcoholic beverages, snacks, and merchandise for sale. Bar purchases can be made with credit or debit cards.
Accessibility
The enclosed main decks of all vessels are wheel chair accessible. However, only the Harbor Queen and Harbor Princess have wheelchair accessible restroom facilities.
Important: the ramps leading onto and off the vessels vary in steepness depending on tide levels. While the crew will make every attempt to assist guests, boarding can be difficult particularly during low tide.
With prior notification, arrangements can be made to use the ADA compliant vessel and gangway for boarding and disembarking.
MORE INFORMATION
Cruise under both the Golden Gate Bridge and the Bay Bridge in one spectacular cruise along San Francisco's entire urban skyline, accompanied by our headphone audio in 16 languages.
Along the way, explore San Francisco's stunning landmarks like Alcatraz Island, Coit Tower, Ferry Building, Transamerica Pyramid, Palace of Fine Arts, and many more. Our San Francisco bridge to bridge tours give you the opportunity to learn about this city's unique natural history, architecture, and Native American culture through our audio tour.
Other interesting aspects of the multilingual audio tour include details about the building of both bridges, the geology of San Francisco Bay, and the earthquakes that have shaken San Francisco and require special seismic considerations in the designing of new structures. Cruising under both of San Francisco's incredible bridges surely will be the highlight of your journey.
RELATED PRODUCTS
1-hour Blue and Gold Fleet Bay Cruise adventure
Local taxes
Gratuities; recommended
Food/beverages; full bar with drinks and snacks (at reasonable prices)
Red and White 1 Hour Bay Cruise