San Francisco Muir Woods Tour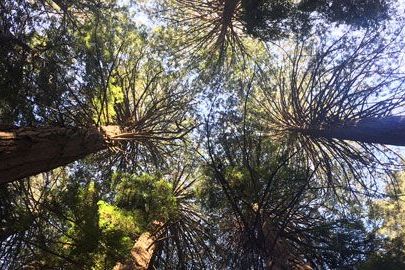 Important Information
Muir Woods Need-to-Know
The Muir Woods Tours depart from the Big Bus Tours Visitor Center at 99 Jefferson Street in Fisherman's Wharf San Francisco/ Big Bus Tours Stop 1. Please arrive 20 minutes before your booked departure time. The tour will take approximately 3.5 hours roundtrip.
You will get 1.5 inside of the Muir Woods National Monument to explore at your own leisure. On your way back to San Francisco you will experience a scenic drive through the beautiful town of Sausalito with breath-taking views back on to the San Francisco skyline.
Reservations are required for this tour. We do need at least 48 -hour notice for any cancellations. Please note that you will need to choose your Muir Woods visit date and time at purchase. Please select the date you wish to go on the Muir Woods Tour at checkout.
Accessibility
Vehicle: 25 passenger motor-coaches with air conditioning and wheelchair access.
Refunds
To request a refund please follow the below instructions:
Please email your request to: refundsusa@bigbustours.com 
Please include the following details: 
Customer name 
Customer email address 
Date of sale 
Order reference number 
The reason for requesting refund - please provide as much information as possible
MORE INFORMATION
Experience the wonder of one of California's oldest redwood groves on our new Muir Woods Tour. Hop on to take a scenic drive across the Golden Gate Bridge, and adventure into Muir Woods National Forest. Begin your journey with a 45 minute fully narrated, scenic drive that crosses the iconic Golden Gate Bridge. Enjoy stunning views of San Francisco Bay and capture the unique structural details of this remarkable bridge, renowned for its international orange color. Arrive at Muir Woods National Forest where you will be provided park entry tickets and have 1.5 hours to self-explore the gentle walking trails within the national park. Maps detailing walking trails will be available at the Muir Woods Visitor Center. Stroll through the tranquil forest to see California's coastal redwoods, the tallest living things on earth. See redwoods that are more than 250 feet tall and more than 800 years old in one of the last remaining stands of old-growth coastal redwood forest, sustained by temperate marine fog. Complete your experience with a scenic drive through the coastal mountains on the Marin Headlands and Sausalito. Enjoy sweeping views of the San Francisco Skyline and the Pacific Coast as you cross the Golden Gate and return to Fisherman's Wharf. Reservations are required. Please confirm your preferred tour date and time by contacting sfreservations@bigbustours.com after purchase.
RELATED PRODUCTS
Live Guides
Muir Woods Admission Ticket
Alcatraz Entry - Reservations required
Drive through Sausalito
Cross the Golden Gate Bridge
Hop-on, Hop-off
Blazing Saddles Bike Rental Offer
Night Tour
Choice of 7D Experience, USS Pampanito or the Flyer