London Explore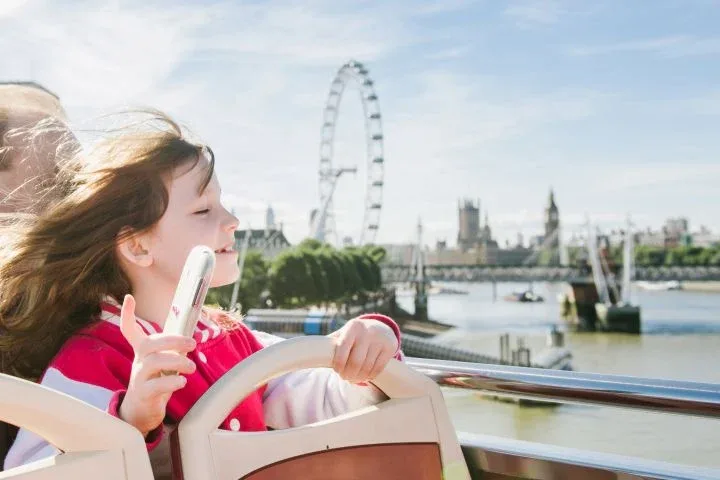 TOUR DESCRIPTION
Embark on the ultimate London adventure with our 2-day ticket, including hop-on, hop-off sightseeing, evening tour, and a City Cruises river cruise.
2 Day Hop-on, Hop-off ticket
Open-top double-decker buses
See all the top landmarks
River Cruise - one way
Pre-recorded commentary
Free onboard Wi-Fi
Big Bus Night Tour
3 x London Walks
Important Information
What is the child ticketing policy?
A child ticket is available for children between the ages of 5 - 15. Children under 5 may travel free of charge. All children must be accompanied by an adult.
On which days does the tour operate?
Our London Big Bus Tours operate every day of the year.
How do I redeem my ticket?
Show your ticket (printed or on a device) to a member of staff at one of our stops or aboard the bus. They'll issue you a receipt that you'll be able to use to hop on the bus throughout the validity period of your ticket.
Accessibility
Our buses are wheelchair accessible, with ramps enabling access to all vehicles within the fleet. There is space for one wheelchair per bus (unless the second customer is able to transfer to a fixed seat, in which case a second wheelchair can be accommodated in a fixed position).
We do have some restrictions in place due to weight and stability, and advise that we do not carry mobility scooters. We also may not be able to accommodate larger wheelchairs for the same reason. The maximum weight allowed on the ramp is 300kg, which is the weight of the wheelchair when occupied. The wheelchair also cannot exceed the width of the designated wheelchair seating area.
To avoid any disappointment on your day of travel, we would be happy to confirm in advance whether your wheelchair can be accommodated on board, and would ask you to send an email to info@bigbustours.com including a photograph of your wheelchair, as well as an indication of the width and weight of the chair. Please feel welcome to contact us for further information.
Refunds
To request a refund, get in touch by downloading the Big Bus Tours App or using the enquiry form at bigbustours.com/contactLON
MORE INFORMATION
Embark on the ultimate London adventure with our 2-day Explore Ticket, which includes hop-on, hop-off sightseeing on our open-top buses, our Big Bus Night Tour, and a City Cruises river cruise along the Thames.