Miami Everglades Experience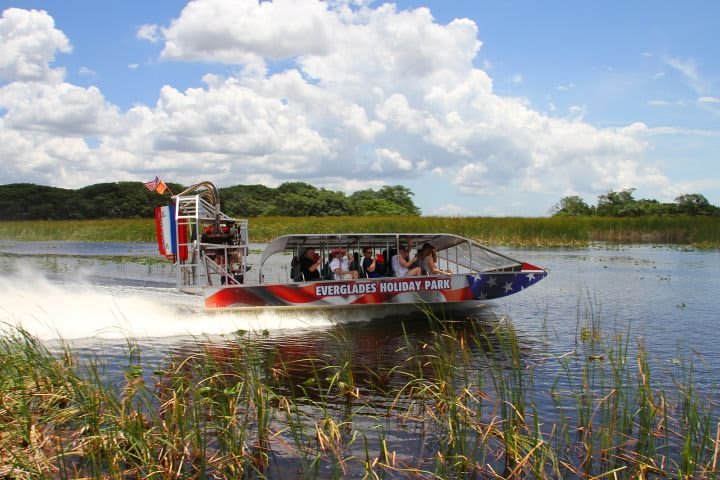 Important Information
Departure & Duration of Tour
Please arrive at least 20 minutes in advance of your chosen departure time.
Departure Times:
13:00 - 1680 Washington Ave, Miami Beach
13:30 - The Torch of Friendship, 301 Biscayne Blv
The journey to Holiday Park takes about 45-60 minutes.
Important Information
Please inform us in advance if you have accessibility requirements (e.g. if you are a wheelchair user) so we are able to make arrangements to accommodate you comfortably.
On the day, please wear comfortable clothes and shoes, bring water, and consider wearing a hat, sunscreen and insect repellent.
What is the child ticketing policy?
A child ticket is available for children aged between 3 and 12 years. All children must be accompanied by an adult. Customers aged 15 years and under must be accompanied by an adult. Strollers and pushchairs must be folded and stowed on the lower deck.
Refunds
To request a refund please follow the below instructions:
Please email your request to: [email protected]
Please include the following details:
Customer name
Customer email address
Date of sale
Order reference number
The reason for requesting refund - please provide as much information as possible.
MORE INFORMATION
Enjoy, Discover and relax on a ride in one of our couch buses to the phenomenal Everglades.
About the Everglades
The Everglades is a unique wetland ecosystem in southern Florida, with 5,000 square miles of slow-flowing water supporting grasslands, thick forests and diverse groups of animal life. Often referred to as the 'River of Grass', the swampy Everglades create endless prairies of sawgrass that rise 3 to 10 feet above the surface of the water. The sawgrass is often so dense that travel is possible only through shallow natural water passages, hence the use of those famous flat-bottomed Florida airboats. The Everglades are known for birds like the roseate spoonbill, great blue heron and a variety of egrets. Marine life includes alligators, American crocodiles, soft shelled turtles and fish such as red teriera, large mouth bass, redfish, and catfish. Other wildlife in the Everglades National Park includes deer, the endangered Florida panther and over 28 different snakes.
About the Everglades Tour
Your Everglades Experience begins in Miami, where you'll be collected by our special Big Bus coach. You'll journey out to the Everglades Holiday Park, a 50-minute drive away within the Everglades Natural Park. First you will have the opportunity of having a FREE picture taken with you group follow by explore the river of grass on an unique airboat, complete with live guide. They'll point out wildlife like turtles, birds and alligators. Next up is a wildlife show - see alligators expertly handled by keepers using traditional Seminole Indian techniques, finishing by holding a baby gator obtain a FREE picture with it! Before your journey back to Miami, you'll have free time at Holiday park to grab a bite to eat, explore the souvenir shop or relax by the water.