Miami Night Tour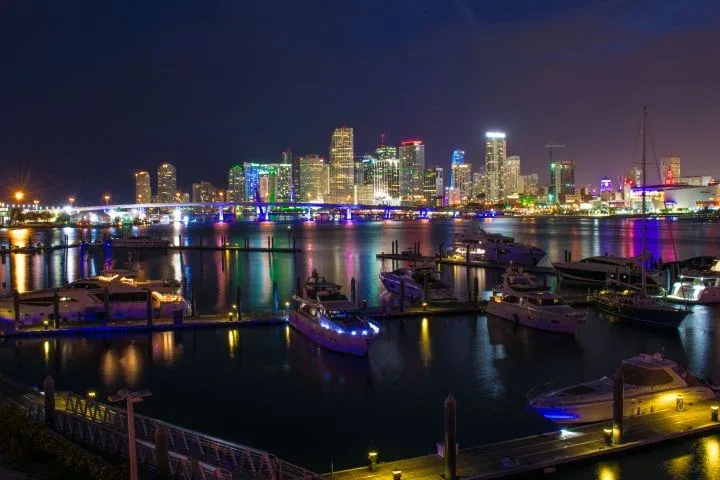 Important Information
Night Tour Departure Times
Tours Depart at 8:00pm Night tour buses depart at 8:00pm from Stop #1 (Bayside Marketplace - 401 Biscayne Blvd, metro bus stop in front of Island Queen Café). T&Cs: the Night Tour is not a hop-on, hop-off tour. Seats are available on a first-come, first-served basis, so please arrive at least 10 minutes in advance of the departure time.
What is the child ticketing policy?
A child ticket is available for children aged between 3 and 12 years. All children must be accompanied by an adult. Children aged 2 years and under may travel free of charge. Customers aged 15 years and under must be accompanied by an adult. Strollers and pushchairs must be folded and stowed on the lower deck.
On which days does the tour operate?
Big Bus Tours Miami operates daily except for 24 December (Christmas Eve), 31 December (New Year's Eve) & 29 January 2023 (Miami Marathon). If unexpected closures due to special events or extreme weather conditions arise, information will be published on our platform.
Do I need to specify a date for travel?
Yes – we'll ask you to select the date you'd like to hop on the bus. If you're touring with us for more than one day, your ticket must be used across consecutive days, and the date you select at time of booking should be the first day of your tour. Some tours also require you to select a time of travel, to guarantee your seat. If your ticket includes extras, you may also need to book additional dates & times for all elements of your ticket after your purchase is complete. See your booking confirmation email for instructions.
Are you able to drink alcohol on Big Bus Tours?
You are not allowed to carry or consume alcohol on any of our buses. However, water and other soft drinks are allowed on the bus.
Accessibility
Big Bus operates wheelchair accessible vehicles that can accommodate a weight up to 650 pounds. Please be advised that the upper deck on our entire fleet is not wheelchair accessible. Passengers with mobility requirements may not be able to access the upper deck of our buses. Big Bus cannot guarantee the accessibility of the various attractions along the tour.
Refunds
To request a refund, get in touch by downloading the Big Bus Tours App or using the enquiry form at bigbustours.com/contactMIA
MORE INFORMATION
Hop on our 75-90 minute panoramic Miami Night Tour to discover the Magic City all lit up for the evening. Our Night Tour introduces you to Miami's best sights after dark. Enjoy the vibrant buzz on South Beach's Ocean Drive and discover the city's best landmarks as they're illuminated in the evening.