New York The Edge at Hudson Yards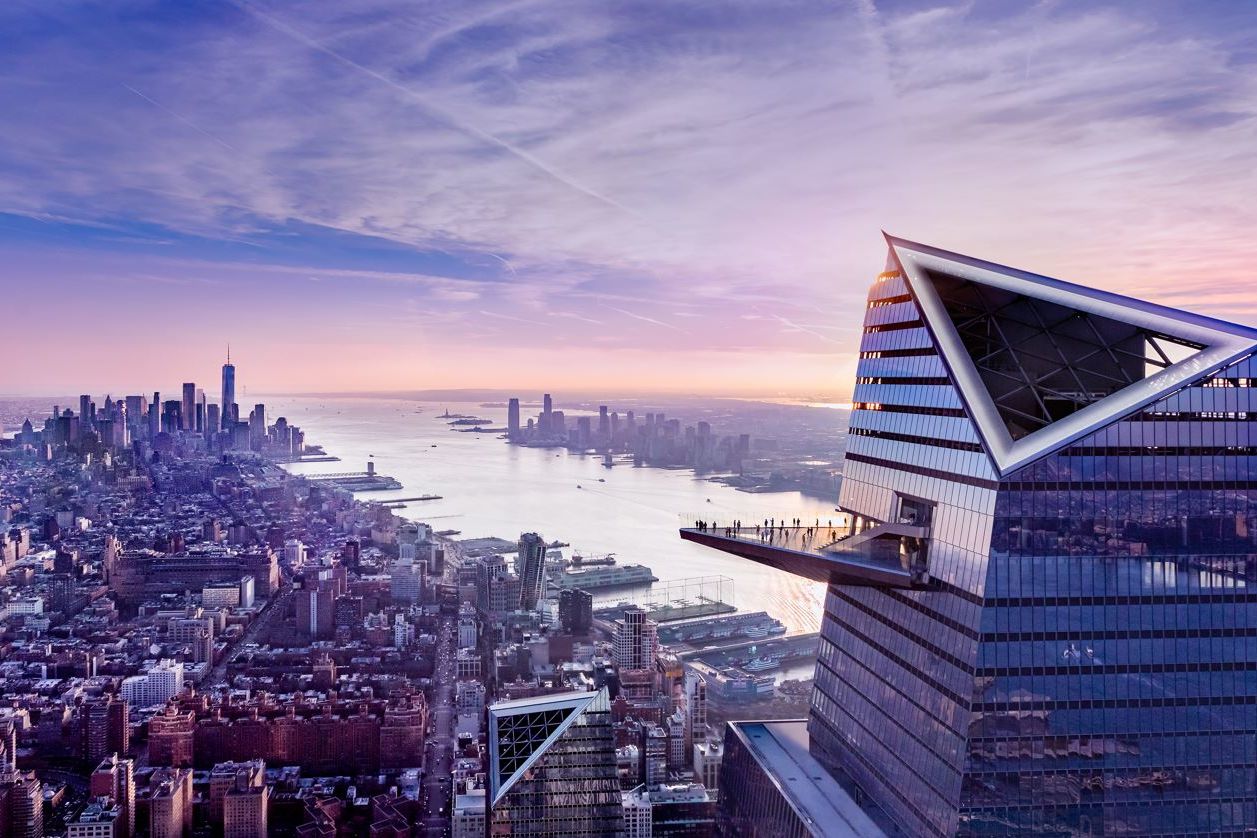 TOUR DESCRIPTION
360° New York views from the indoor observation deck on Level 100.
360° New York views from the indoor deck on Level 100
Access to the highest outdoor sky deck in the Western Hemisphere
Access to the Glass Floor, Angled Glass Walls, Skyline Steps and Eastern Point
Free digital souvenir photo
A glass of Champagne (21+)
Souvenir photo book
Important Information
Opening Hours & location
Open daily between 10am - 10pm. Last elevator ride is 50minutes prior to closing.The Edge is located on Level 4 of The Shops & Restaurants at Hudson Yards, 20 Hudson Yards, New York, NY 10001Phone: +1 (332) 204-8500
Is proof of vaccination required to enter?
Effective August 24, 2021, all guests 12 and over will need to show proof they have received at least one dose of a COVID-19 vaccine. In addition, persons 18 and older are also required to show Photo ID. Proof of vaccines may include any of the following: A photo or hard copy of their CDC vaccination card / NYC COVID Safe App / New York State Excelsior App / Official vaccine record / A photo or hard copy of an official vaccination record of a vaccine administered outside the United States for one of the following vaccines : AstraZeneca/SK Bioscience, Serum Institute of India/COVISHIELD and Vaxzevria, Sinopharm, or Sinovac
Is there a time limit on my visit? How long does a visit take?
There is no time limit to how long you can stay at Edge. The average length of stay is about 45 minutes to an hour, but if you still haven't worked up the courage to step on the glass floor or if you are enjoying the incredible view with a glass of Champagne, feel free to stay as long as you like!
Do I need to print my ticket if I reserved through the website?
We encourage you to present your ticket on your mobile device, but printed tickets will also be accepted. You can access your mobile tickets from your confirmation email.
What if the day I plan to visit Edge there is zero visibility due to weather?
Edge is open 7 days a week, 365 days a year, regardless of weather conditions. In the case of inclement weather, portions of the outdoor sky deck may be closed for safety reasons. Guests will be advised about weather conditions and visibility prior to entry. New York City does experience inconsistent weather conditions from time to time. However, since weather conditions fluctuate and visibility can improve very quickly, we advise all of our guests to arrive for their ticketed time. Edge tickets are sold on a non-refundable basis. Remember, the Edge experience encompasses more than just the spectacular view
Is Edge accessible for a person with disabilities?
Edge offers elevators and ramps for those who require it for their visit. Guests requiring assistance, e.g. auxiliary aids or services, should contact Guest Services at (332) 204-8500 or info@edgenyc.com in advance of their visit for additional assistance or information.
Are baby strollers allowed?
Yes, strollers are allowed but you will be asked to remove your child and fold your stroller up for access to the elevators and the escalators within the Edge experience.
MORE INFORMATION
You've never experienced New York like this before! The Edge is the highest outdoor sky deck in the Western Hemisphere located at 30 Hudson Yards, with a one-of-a-kind design. It's suspended in mid-air, giving you the feeling of floating in the sky with 360-degree views you can't get anywhere else. Look 100 stories down from the thrilling glass floor, lean out over the city on angled glass walls.