Vienna Riesenrad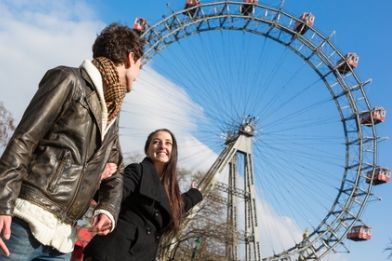 TOUR BESCHREIBUNG
Vienna's Giant Ferris Wheel offers unforgettable views of Vienna
Wichtige Informationen
Refunds
To request a refund please follow the below instructions:
Please email your request to: bookingsupport@bigbustours.com
Please include the following details:
Customer name
Customer email address
Date of sale
Order reference number
The reason for requesting refund - please provide as much information as possible.
Mehr Informationen
Vienna's Giant Ferris Wheel (Wiener Riesenrad) is a symbol of the city, rising 65 metres above Prater to offer unforgettable views of Vienna. Take a turn on this historic observation wheel to experience its unique atmosphere and see Vienna from all angles. Located in the Prater, Vienna's long-established amusement parkland, Wiener Reisenrad has been gently revolving above the rooftops of Vienna for 120 years. Visitors can board one of the wheel's 15 gondolas for a relaxing 15-minute revolutuion that allows you to see the sights of Vienna from above.