1 TOUR
Los Angeles Hollywood Panoramic Tour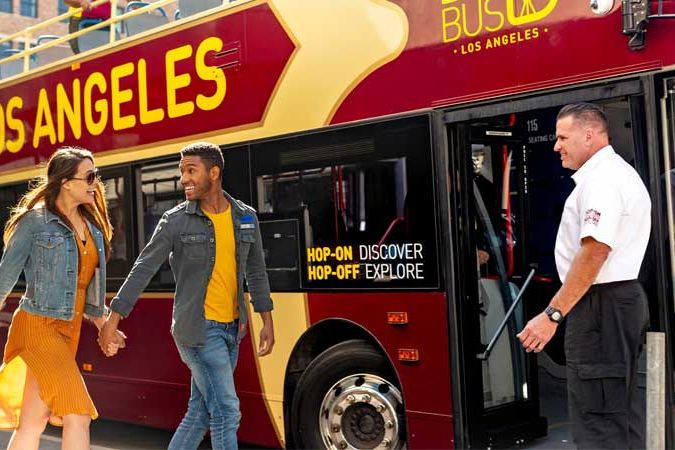 TOUR DESCRIPTION
Panoramic Tour on the Hollywood Loop
1 Panoramic Tour on our Hollywood Loop
Hop-on, Hop-off
Important Information
How do I redeem my ticket?
Redeem vouchers at Big Bus Visitor Center at 6763 Hollywood Blvd or at any Big Bus hop-on hop-off stops.
Is Commentary available in my language?
Pre-recorded commentary is available in the following 9 languages; English, Spanish, Portuguese, French, German, Mandarin, Korean, Japanese & Hindi.
What is the child ticketing policy?
A child ticket is available for children aged between 3 and 12 years. All children must be accompanied by an adult. Children aged 2 years and under may travel free of charge. Children aged 12 years and under must be accompanied by an adult. Strollers and pushchairs must be folded and stowed on the lower deck.
How long does the tour take?
Hollywood Loop takes approximately 2 hours .
Do I need to specify a date of travel?
No, you can use your ticket on any date.
On which days does the tour operate?
The Big Bus tour of Los Angeles operates daily, excluding Thanksgiving Day (24 November), Christmas Day (25 December) & Oscar's Day (12 March '23). On rare occasions, our service may be affected by events outside of our control. Do check our service alerts for any unexpected disruptions.
Accessibility
Yes, we operate wheelchair accessible vehicles with lifts that can accommodate a weight up to 650 pounds. Please be advised that our entire fleet in Los Angeles is not wheelchair accessible. If you or your travelling partner(s) requires an ADA accessible vehicle, please contact us 48 hours prior to your planned tour commencement. We can then arrange for a suitable vehicle to be available at the time and location required. If you require a different accommodation, please also contact us 48 hours prior to your planned tour commencement so we can make arrangements for an accommodation. Please note that messages left on the office general voicemail do not constitute confirmed arrangements. Please also note that passengers with mobility impairments may not be able to access the upper deck on our buses. We cannot guarantee the accessibility of the various attractions along the tour.
Refunds
To request a refund, get in touch by downloading the Big Bus Tours App or using the enquiry form at bigbustours.com/contactLAX
MORE INFORMATION
Explore the Glitz and Glamour of Hollywood and the laid-back sunshine of the Pacific coast as you explore Los Angeles with Big Bus. Enjoy the views, discover the history, and learn all the stories behind the city made famous for story-telling from our multi-language recorder commentary.